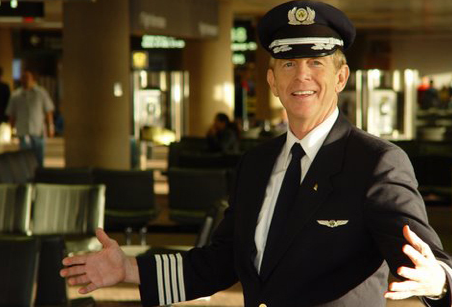 Captain Ron Nielsen has been a pilot for almost 40 years and a captain for a major airline during half that time.  Because of the Age 60 Rule that calls for mandatory retirement of pilots, he was "locked out of the cockpit" on the occasion of his 60th birthday.  Flying was always his passion; now he devotes much of his time and energy to helping other people be able to fly.  He is frequently contacted by the media for his aviation expertise.
Having been involved with fearful flyers since 1987, he has gained a unique understanding of fearful flyers and their fear. He has his master's degree in professional counseling, so connecting with people and helping them give him a great deal of satisfaction. His knowledge of people combined with his knowledge of airplanes have helped him develop strategies for fearful flyers to successfully manage their fears. Through his live classes and webinars, he has restored confidence to thousands who are now flying again.
Captain Ron is also the author and creator of Chicken Soup for the Soul Presents The Fearless FlightKit™.  An engaging speaker and presenter, he is available for speaking engagements. To inquire about his availability, please contact us.

Diane Owens has been working with fearful flyers since 1996 when she ran the Cleared for Takeoff program in psychologist Dr. John Moran's office.  When Capt. Ron took over the program from Dr. Moran, she continued her involvement on a freelance basic and assisted in the development of of Chicken Soup for the Soul Presents The Fearless FlightKit™. For the last four years, she has been assisting Capt. Ron on a daily basis–answering email and calls, handling orders, coordinating classes and the website, writing blog posts and articles, and coaching and accompanying fearful flyers on practice flights. When Diane is not helping fearful flyers, keeping Captain Ron on track, and raising four daughters, she facilitates women'swriting classes at Wise Women Write.com.  She writes under the name Diane Amento Owens and is one of the co-authors of LifeLines
an anthology of stories about women as mothers, wives, and daughters available on Amazon.com.  She also writes a blog about Baby Boomer issues for the Seattle Post Intelligencer called Blooming Boomer.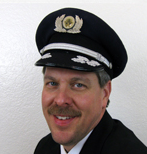 John Bergeson Growing up in an aviation family instilled a progressive and enthusiastic attitude toward flying.  For me, being aloft in an airplane always seemed to be completely natural, and why not?  Both my parents flew, as did my uncle.  My sister became an air traffic controller.  Flying for the major airlines seemed to be the most rational career path for me.  Fortunately, the cycles of the economic growth allowed me to gain a toe-hold as a pilot in the airline industry.  A Captain position became available in 1999.
Aviation has given a great deal to me, and to my family, thus, it seemed natural to become an ambassador for aviation and air travel.  Helping the fearful flyers provides a formal platform for me to be this ambassador. Over time, I became aware of the multitudes of people who experience fear and apprehension while flying.  Being a problem-solver, I have developed a strong desire to help others experience the joys, (or at least the convenience) of flight.
The weekends will normally find me flying an Airbus 320 for the airline.  On days off, I can be found riding a Harley-Davidson motorcycle, or driving a sports car.  Aircraft maintenance is also a favorite leisure activity, as I maintain several several sport aircraft for others.