A Delta Air Lines McDonnell Douglas MD-88 was operating flight DL1425 when the pilots initiated a diversion and successfully performed a non-normal landing due to an engine failure. The aircraft was en route to Baltimore from Atlanta, cruising at 33,000 ft when engine #2 (the left engine) a Pratt and Whitney JT8D engine, failed.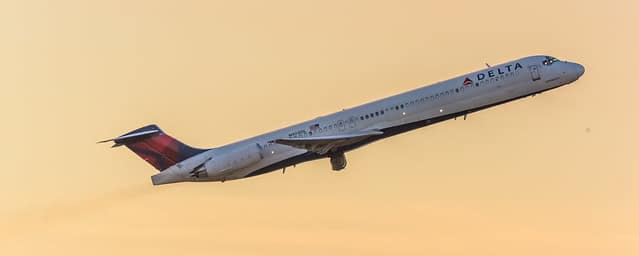 In a statement, Delta Air Lines said Flight 1425 was diverted "after receiving an indication of an issue with one of the aircraft's engines."
154 people were on the aircraft. Passengers sitting close to the engine were terrified to see the spinner tumbling and grinding against the inlet guide vanes. It was these inlet guide vanes prior to the fan assembly which prevented the spinner from entering the engine and causing a dramatically worse failure.
Terrifying?
Terrifying…that depends. It certainly is a dramatic video. I would argue that what makes it dramatic is that it is a view of an engine that has obvious damage–something that RARELY ever happens and even rarer is to capture it on video.
You can see the bullet nose of the engine has fallen off and is spinning loosely in the intake, held undoubtedly by the pressure of the intake air. What makes it "terrifying" is your imagination which has been triggered by activation of the most primal sense of not feeling safe. And therein lies the essence of anxiety due to flying.
It's because you have a predilection for anxiety related to flying, you have trouble being able to down-regulate your increased state of arousal. Despite the serious nature of this mechanical issue, the pilots responded in the prescribed way they were trained and the airplane landed uneventfully.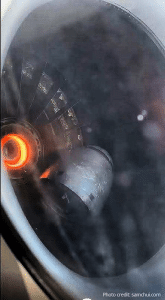 Their training to respond to such problems, by the way, is to practice it over and over so that the same uptick in their arousal due to the surprising emergence of the problem doesn't leave them in the same elevated state that you find yourself in, which might compromise their performance. Instead, they fall back on training and experience that yields the ability to down-regulate their arousal so that they don't get overwhelmed.
That's called resilience and it's available to all of us but for anyone with an anxiety disorder, we lost that ability due to failure to bond with significant caregivers during the early years of our lives and/or traumatic stress during our lives. We simply didn't learn how to lower our arousal and get back to being able to "let our guard down." And that has had consequences.
The good news is that you can learn to down-regulate your arousal. And you don't have to become a pilot to accomplish this skill.
You do, however, have to admit that your ability to down-regulate is broken and find ways to fix it.
That's where we here at FearlessFlight are able to support you. The FearlessFlight® Kit and the FearlessFlight® Harmonizer were developed specifically to help you shift your attention when those fearful thoughts and images 'trigger' your survival instinct.
If you made it this far in this article, then please let me reassure you that there's no need to fly with anxiety.
The most common response when I fly with someone who's struggled with fear of flying is, "I wish I had done something about this earlier."
If you have a fear of flying, you don't have to wait. We provide free, live Cleared for Takeoff fear of flying classes several times a year at the Phoenix Sky Harbor International Airport.
You can also find relief right away at www.FearlessFlight.com, listen to our weekly FearlessFlight® LIVE Show on Facebook join our FearlessFlight® Birds of a Feather Facebook Group or contact me directly through Facebook Messenger.
If you want to speak with me right away, you can schedule a free 15-min online coaching session directly by clicking here.
You don't have to go it alone!
Happy Landings, 
Capt Ron